Die Patriots gewinnen 19:37 gegen die Jets!!!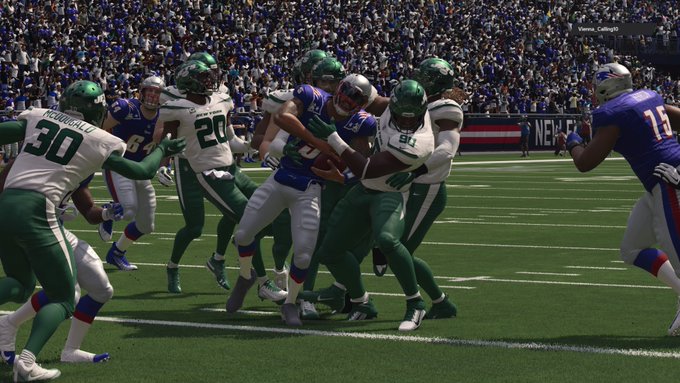 Die Jets starten al erstes erfolgreich im run mit Bell durch und können im ersten Drive 3 punkte mit Ficken holen und im drive danach sogar die 7 punkte mit Dalton über WR Hogan zum 7yard TD! Die Jets führen mit 10 punkten aber Kaepernick findet nach seiner ersten INT im spiel, M. Lee zum 36yard TD pass! Somit wurde der zwischenstand auf 3 punkte gekürzt.
Im zweiten Quarter, machte Kaepernick das Play alleine mit der RPO und läuft für 5yards und bringt die Patriots mit 10:14 in Führung! Die Jets spielen wieder viel über Bell und Kicker Ficken mit einem weiteren FG aus 38yards. Die Patriots unbeeindruckt und Kaepernick findet an der Goal line, WR Harry zum 2yard TD pass! Kurz vor der Halbzeit kickt nochmal Ficken aus 37yards, somit gehen die Pats mit 16:20 in die Halbzeit.
In der zweiten hälfte haut Kaepernick die Bombe raus und findet tief WR Lee zum 80yard TD pass! Lee läuft zwischen den Coverages unbemerkt durch und Kaepernick hat die Kraft den Ball anzubringen. Jets wieder am Ball und wieder wird ein FG geschossen von Ficken aus 36yards. Im nächsten Drive machen die Pats einen HB screen auf HB Taylor und er läuft 45yards zum TD! Die Blocks waren richtig gesetzt und Taylor kann mit seinem Speed in die Endzone laufen. Der Zwischenstand nun bei 19:34!
Im vierten Quarter Durfte auch Rosas zum FG kicken aus 20 yards. Im letzten drive haben die Jets angegriffen und beim 4th down versuch in der Redzone wurde ein FG gekickt und wurde verschossen. Kaepernick kniet ab und die Patriots gewinnen 19:37 gegen die Jets.
MVP des spiels und AFC Offense player of the week ist QB Colin Kaepernick mit: 140.9QBr, 20/24, 419yds, 4TDs, 1INT & 80longest. 6car, 14yds & 1TD
Die Patriots spielten überwiegend mit Backups. 2-4 feste Starters haben gespielt.
Danke an den Jets coach für das faire spiel
Damit schließen die Patriots die Regular Season mit 15-1 ab und sind nooch nicht mal Seed #1
Indycoltsfan mag diesen Beitrag
---
Befugnisse in diesem Forum
Sie können in diesem Forum
nicht
antworten