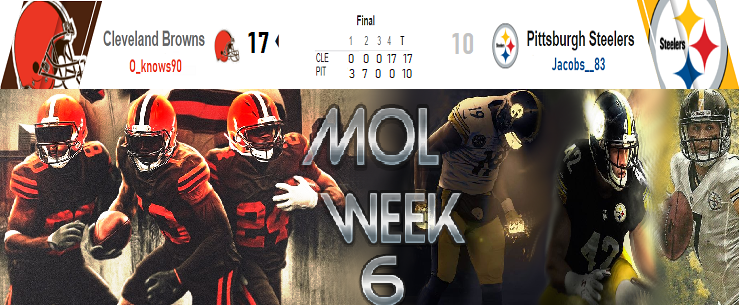 Das Rivalry-Game der AFC-North zwischen den Cleveland Browns und Pittsburgh Steelers steht an
und die jeweiligen Fanlager sind gehyped.
Es sind in diesen Spielen auch immer wieder viele Auswärtsfans dabei, denn für viele Fans ist
es nur eine 2 stündige Autofahrt ins gegnerische Territorium.
Die Browns-Fans werden sicher lautstark dabei sein, denn sie haben allen Grund zur Freude mit einem
5-0 Record, wobei die Gastgeber aus Pittsburgh, Pennsylvania eher enttäuscht von ihrem Team sind, die momentan bei 1-4 stehen.
Das so genannte Turnpike Rivalry oder auch Turnpike War wird auch sicher dieses Mal ein Knüller werden.
Auf Papier sind die Browns zwar Favorit aber immer wenn Rivalen aufeinander treffen, scheint Logik nicht zu zählen.
Und so auch in dieser Begegnung.
QTR 1 & 2
Es passierte im 1. QTR nicht viel.
Die ersten Punkte wurden erst anfang des 2nd-QTR durch ein FG der Gastgeber erzielt.
Beide Teams waren sehr defensiv eingestellt und spielten konzentriert.
Mayfield's performance in den ersten 3 QTR war eine Zumutung und mit 3 Interception ist wohl klar warum.
Man kam 3 mal in die Redzone und verlasste diese 3 mal ohne Punkte und 2-Mal sogar mit Turnover.
Die unbesiegten Browns waren sicherlich geschockt und haben es sich eventuell einfacher vorgestellt,
doch die Steelers nahmen das ganze ernster und wollten den Sieg auch mehr als die bisher Erfolgsverwöhnten Browns.
So konnten die Steelers schon im 1. QTR QB B.Mayfield nach einem Deep-Pass auf Odell Beckham Jr, durch Safety T.Edmunds intercepten.
Die 2. Int kam dann in der Redzone des Gegners, als man beim Scramblen und anschließenden Pass, durch CB Joe Haden interceptet wurde.
Eine ungewohnt schwache Performance der Browns Offense. Könnte heute der 1. Loss der Season kommen?
So musste man sich auf die eigene Defense verlassen, die schon eine Menge von Turnover in den ersten 5 Wochen erzwingen konnte.
Und auch in diesem Match, machte die Defense starke Plays.
So konnte man Veteran QB B.Roethlisberger kurz vor der Endzone intercepten.
Kein geringerer als Rookie-LB Jacob Phillips, der mit Greedy Williams, Grant Delpit und Kristian Fulton den starken-LSU Block in der Defensive stellt.
Als man dann mit der Offense bis in die gegnerische Seite marschierte und kurz vor der Endzone stand,
wurde B.Mayfield erneut bei einer Slant-Route von FS Minkah Fitzpatrick gepicked.
So langsam sollte Mayfield sich zusammen reißen, wenn es nicht zu Unruhen unter den Teammates kommen soll.
Halftime 0:3 für die Steelers.
QTR 3
Pittsburgh bekam nach dem Wiederanpfiff den Ball und konnte diesen über die Goalline tragen.
James Conner war hier unaufhaltbar an der 2-Yard-Line.
0:10 für die Heimmannschaft
So langsam stellte man sich auf eine mögliche Niederlage ein.
Denn nichts schien gegen diese starke Steelers Defense zu wirken.
Dazu kam noch, dass die Offense um Mayfield und Co. eine peinliche Leistung abruften.
Es war einer von diesen Tagen wo nichts zu klappen schien und man den Gegner komme was wolle nicht stoppen konnte, egal wie gut man sich auf die Plays einstellte.
QTR 4
Beim nächsten Trip-Downfield nahm man dann doch die 3-Pkt um somit aus Sicht der Browns ein One-Possession-Game zu haben.
nur noch 3:10 mit 7 min auf der Uhr-
Ein Stopp war im folgenden Drive aus Sicht der Browns extrem wichtig.
Und es gelang ihnen auch.
Roethlisberger beim Throw-on-the-Run von Ohio State 1st-Rd-Pick Denzel Ward abgefangen.
Ein sehr wichtiger Turnover der Gäste aus Cleveland, Ohio.
Als man im darauf folgenden Drive bis zur gegnerischen Redzone kam, konnte man leider nur ein FG-Versuch erzwingen. Dieser wurde jedoch verschossen und nach dem Turnover on Downs mit 5 Min auf der Uhr,
schien die Hoffnung bei Team und Fans schon fast gestorben zu sein.
Doch dank der starken Defense, konnte man noch mal einen Punt erzwingen.
3 Min auf der Uhr und die Möglichkeit für Mayfield die 3 Ints wieder gut zu machen.
Und das tat er auch.
Man marschierte voran und mit 1 min auf der Uhr, war man gezwungen ein 4th and 3 an der gegnerischen 9-Yard-Line auszuspielen.
Dieser führte aber zum TD durch Odell Beckham JR. und die Fans so wie Teammates rasteten einfach komplett aus.
Keiner hatte mehr mit einem Ausgleich gerechnet, doch Mayfield machte seine vorherigen Fehler wieder wett.
10:10 und nur noch weniger als 1 Min zu spielen. Alles deutete auf Overtime hin.
Die Gastgeber spielten natürlich auf den Win und wollten sicherlich nicht in die Overtime mit motivierten Browns.
Doch die Defense der Browns konnte in dem Drive Big Ben intercepten.
HaHa Clinton-Dix mit dem wichtigsten Turnover des gesamten Spiels und das an der gegnerischen 40-Yard-Line, den man noch bis die 25 weiter tragen konnte.
Ein echt gravierender Fehler vom Veteran QB der Steelers und ein atemberaubender Finish der Browns, die trotz den Rückschlägen, weiterhin konzentriert spielten und nun scheint es, dass sie das unmöglich gedachte möglich machen werden.
Anstatt auf das FG zu gehen , erzielte man durch ein Toss-Run vom Star RB N.Chubb den entscheidenden Touchdown.
Was für ein Match. Das war einem Rivalry-Game würdig. Es gab kein Record , keine Wins, keine Losses .
Es zählte nur das war man heute auf dem Platz gelassen hat.
Starke Leistung auch vom Coach der Steelers.
Man sollte die nächsten Wochen mehrere Wins erspielen, da bin ich überzeugt.
ENDSTAND 17:10 für das Team aus Cleveland, Ohio.
https://www.twitch.tv/videos/784621851
Man of the Match

reggiebush15

Pro Bowler





Anzahl der Beiträge

: 494


Anmeldedatum

: 13.08.18


Ort

: Frankfurt am Main



Glückwunsch nach Cleveland.
Bittere Niederlage für die Steelers die nah am Upset waren.

Tom99

Pro Bowler





Anzahl der Beiträge

: 127


Anmeldedatum

: 28.08.18



Glückwunsch zum letztendlich verdienten Sieg. Es waren dann im vierten Quarter doch ein paar Fehler zu viel auf Seiten der Steelers. Bis dahin lief es richtig gut:D
Hat trotzdem eine menge Spaß gemacht, freue mich auf das Rückspiel

Jacobs

Rookie





Anzahl der Beiträge

: 59


Anmeldedatum

: 20.07.20


Alter

: 49


Ort

: Kaltenkirchen



War auf jedenfall einer rivalry würdig.
Du hast mich extrem gut in Schach gehalten und warst effektiver. Und die Ints in der endzone waren sehr wichtig.

Man musste aber bis zur letzten Minute konzentriert spielen. Freu mich aufs Rückspiel
_________________

reggiebush15

Pro Bowler





Anzahl der Beiträge

: 494


Anmeldedatum

: 13.08.18


Ort

: Frankfurt am Main




Moerf

Pro Bowler





Anzahl der Beiträge

: 115


Anmeldedatum

: 30.06.19


Alter

: 36


Ort

: Bochum



Liest sich wie ein Krimi! Glückwunsch nach Believeland

Scheint eine großartige Saison zu werden

Vindows2608

Pro Bowler





Anzahl der Beiträge

: 103


Anmeldedatum

: 07.04.20




Weezle

Rookie





Anzahl der Beiträge

: 93


Anmeldedatum

: 23.12.15


Alter

: 58


Ort

: Düsseldorf



---
Befugnisse in diesem Forum
Sie können in diesem Forum
nicht
antworten