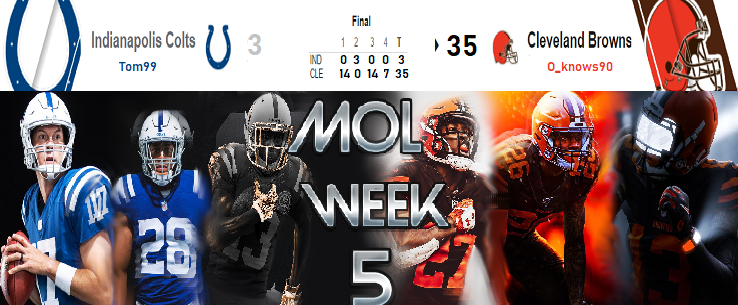 Das Spitzenspiel zwischen zwei bisher unbesiegten Teams. Beide stehen auf 4-0 und nach dieser Woche
wird es zumindest für eines der Teams die erste Niederlage geben.
Es wird ein spannendes Spiel zu erwarten sein zwischen den Indianapolis Colts mit Tom99 und den Cleveland Browns mit Coach O.
Man könnte beide Offenses als eine Run-First-Offense bezeichnen.
Sage und schreibe 136 rushing attempts für die Colts in den ersten 4 Wochen dieser MOL-Season.
Und bei den Browns sind es bisher 135, die man zwischen dem wohl besten RB-Tandem der Liga, Kareem Hunt und Nick Chubb, aufgeteilt hat.
Diese Zahlen sind aber keine große Überraschung. Beide Teams noch ungeschlagen, spielten oft mit einer hohen Führung.
Auf der Seite der Colts ist momentan der Rookie aus Wisconsin Jonathan Taylor der Starter,
da gestandener Runningback Marlon Mack leider mit einer Verletzung für einige Wochen ausfällt.
Taylors Backup ist Nyheim Hynes, der ein sehr schneller pass-catching Runningback ist.
Bei den Browns ist mit dem Duo Hunt & Chubb die Liga vorgewarnt. Zusammen ist man verantwortlich für 9 Rushing-TD's (Nr.1 in der Liga/tied with D.Henry) und für kombiniert 727 Rushing-Yards (ebenfalls Nr.1 in der Liga). Für Fantasy-Football Coaches ist dieses Comittee ein Albtraum, doch das interessiert Coach O. wenig.
Auf die Frage war seine Antwort : " Do you think I really give a damn about your fantasy football team?"
Oh well, thanks coach.
Doch genau wenn man sich auf die Runningbacks konzentriert, können Receiver wie Odell Beckham Jr, Jarvis Landry oder auch TY Hilton die gegnerische Defense bestrafen.
Es wird spannend zu sehen sein, wie die Defense sich auf diese zwei Power-Offenses eingestellt hat.
Cleveland hat immerhin schon 20 Turnover in 4 Spielen vorzuzeigen (18 Int , 2 FF).
Die Colts Defense hat momentan 12 Int und 6 FF auf dem Konto.
QTR 1
Die Gastgeber bekamen zum Kick-Off den Ball und konnten durch ihre 2 Star-Rb's durch marschieren.
Die Colts stellten sich so sehr auf den Run ein, dass ein Play-Action-Pass von B.Mayfield auf J.Landry zum Touchdown führte.
--->
https://clips.twitch.tv/VastAstuteMousePeoplesChamp
<---
0:7 für die Browns aus Cleveland, Ohio.
Rivers und Co. nun am Ball, doch nach einem Deep-Ball auf seinen Top-Receiver TY Hilton, kann die erste Interception in Game gefangen werden. Kein anderer als 2nd-Year Corner von den LSU Tigers, Greedy Williams.
--->
https://clips.twitch.tv/MiniatureModernDurianBrainSlug
<---
Aus dem Turnover können Mayfield und Co. Kapital schlagen. Ein Pass auf Tightend A.Hooper bringt die Browns 14:0 in Führung. Ein Traumstart gegen dieses sonst so starke Colts-Team.
--->
https://clips.twitch.tv/LittlePunchyHamHassanChop
<---
0:14 für die Gastgeber.
QTR 2
Im 2nd Quarter passiert nicht all zu viel. Die Colts schaffen es bis zur gegnerischen Redzone, doch die Defense der Browns steht gut, so dass Indianapolis zum FG gezwungen wird.
3:14 zur Halftime.
Als dann die Verbindung abbrach, einigte man sich 2 QTR nachzuspielen
.
QTR 3
Die Colts bekamen den Ball zum Wiederanpfiff. Der nächste Passversuch von Rivers auf sein Go-to-Guy TY Hilton, konnte erneut interceptet werden. Diesmal vom nächsten LSU-Alumni. Grant Delpit der Rookie Safety machte heute ein sehr beeindruckendes Spiel. Es gelang ihm sogar den Intercepted-Ball für 6 Punkte in die Endzone zu bringen.
--->
https://clips.twitch.tv/GlamorousBlitheGullPanicVis
<---
[/color]
3:21 für die Browns.
Indianapolis bekam heute leider nicht viel zusammen. Die Defense konnte Baker und Co. zu keinem Zeitpunkt aus der Fassung bringen und die Offense um Rivers,Taylor,Hilton schafften es nicht zu punkten. So warf Rivers auch seine 3. Int. Wieder war der Ball für Hilton gedacht und konnte von FA-Signing HaHa Clinton-Dix gefangen werden. Der 23. Turnover dieser Browns Defense. Nicht übel.
--->
https://clips.twitch.tv/AnimatedAgreeableBeanRaccAttack
<---
[/color]
Durch diese gute Ball-Position konnte Mayfield seinen nächsten TD werfen. Wieder ist es Jarvis Landry, der heute ein überragendes Spiel macht. Somit rückt der 5. Sieg in Folge immer näher.
--->
https://clips.twitch.tv/GloriousCallousRadicchioSpicyBoy
<---
3:28 für die Heimmannschaft.
Rivers und die Colts Offense geben sich trotzdem noch nicht auf. Doch auch in diesem Drive wird Rivers Pass für Trey Burton in der Endzone von HaHa Clinton-Dix gefangen. Eine starke Leistung, die nach dem Match mit einer Vertragsverlängerung belohnt wurde. Wir dürfen nun auch für die nächste Season auf Clinton-Dix bei den Browns gespannt sein.
--->
https://clips.twitch.tv/FineBraveClintKeyboardCat
<---

QTR 4
Nun kamen allmählich die Backups der Browns rein. Bei den Colts spielte man natürlich noch mit den Startern, da man sich einfach nicht so verabschieden wollte. Doch Browns-Linebacker Malcolm Smith konnte einen Fumble Forcen, den FA-Neuzugang Malik Jefferson zum Fumbe-Six returnen konnte
--->
https://clips.twitch.tv/ColorfulBoredWeaselUncleNox
<---
[/color]
3:35 Endstand.
Man of the Match
Grant Delpit
1 TD, 1 Int
Der 2019 Jim Thorpe Award Winner und 2nd Round Pick der Browns , spielt bisher eine sehr starke Season.
3 Interception und 1 TD sehen für einen Rookie sehr gut aus.
Für viele Experten keine große Überraschung. Denn wie schon erwähnt ist Delpit 2019 der Jim Thorpe Award Winner gewesen.
Diese Auszeichnung erhält der beste Defensive Back der College Season.
Große Namen schmücken die Siegerliste u.a. Deion Sanders ('88), Charles Woodson ('97),
Antoine Winfield Sr. ('98), Patrick Peterson ('10) und letzendlich Delpit.
Zuletzt von reggiebush15 am Do Okt 22, 2020 7:40 am bearbeitet; insgesamt 5-mal bearbeitet

reggiebush15

Pro Bowler





Anzahl der Beiträge

: 494


Anmeldedatum

: 13.08.18


Ort

: Frankfurt am Main



Glückwunsch zum Sieg!

Ganz starke Saison bisher. Washington und jetzt die Colts defensiv so zu dominieren ist überragend!

Dezina

Pro Bowler





Anzahl der Beiträge

: 247


Anmeldedatum

: 08.01.18


Alter

: 26



reggiebush15 mag diesen Beitrag
Auch von mir nochmals Glückwunsch!
Starkes Spiel von Dir und leider ein sehr schlechtes von mir.

Tom99

Pro Bowler





Anzahl der Beiträge

: 127


Anmeldedatum

: 28.08.18




Weezle

Rookie





Anzahl der Beiträge

: 93


Anmeldedatum

: 23.12.15


Alter

: 58


Ort

: Düsseldorf



Glückwunsch Browns!
Wie immer nicer Bericht!
---
Befugnisse in diesem Forum
Sie können in diesem Forum
nicht
antworten