Die Patriots besiegen die Bills mit 6:41!!!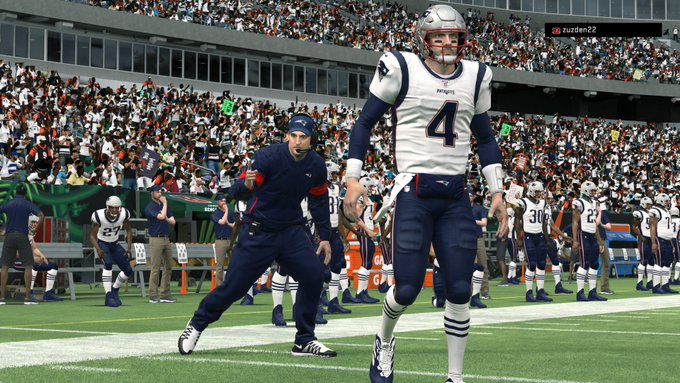 Die zwei Urgesteine der MOL trafen diese Woche aufeinander Uwe vs. JP.
Die Patriots sind als erstes dran und die Offense flog über das Feld. Die ersten Punkte macht Rookie HB D. Harris! TD Patriots! Ein 17yard TD run für den Rookie HB. Harris musste nur noch einen Spieler aus Juken und die Run Blocks sitzen so gut das Harris danach in ruhe in die Endzone laufen kann. Nach einer INT von MLB Bentley, kommt die Offense der Patriots zurück aufs Feld. Stidham setzt zum tiefen pass auf WR Brown der kann den Ball fangen kann und läuft in die Endzone zum TD! TD Patriots! In der Cover 2 waren beide Safetys, zu weit außen und zu tief und Brown fängt den Ball und läuft in die Endzone zum 40yard TD Pass! Nach einem weiteren erfolglosen Drive der Bills, sind die Pats wieder am Ball und das an ihrer 7. Stidham will den nächsten Pass zu Edelman ansetzen und er fängt den Ball an der 3 yard line und kann sich in die Endzone bewegen! TD Patriots! Die Bills Defense lässt in der underneath route, Edelman frei und er fängt den Ball und alles was er tun muss ist in die Endzone laufen. Somit steht es 0:21 zum Ende des ersten Quarters.
Im zweiten Quarter haben die Bills den Ball und die Bills sind über Singletary sehr erfolgreich im Run. Das reichte leider nur bis zur Goal line somit bringt Hauschka die ersten Punkte für die Bills. Die Patriots werden im Drive danach an der 1 yard line gestoppt. Deswegen darf auch Gostkowski den ersten FG versuch antreten. Nach einer weiteren INT der Patriots von MLB Roberts, kommt vermutlich der beste Spielzug im Spiel! Nach einem weiteren Big gainer von Stidham zu TE Watson, ist Stidham erneut in der Gun. Der Snap kommt, aber es ist keiner frei. Stidham rollt links raus aber DE Hughes will seinen fünften Sack abholen, aber Stidham wirft cross body zu TE Watson zum 13yard TD! TD Patriots! Wie letzte Woche wirft Stidham einen sehr präzisen Pass, trotz eines Defenders im Genick. In Double Coverage lupft Stidham den Ball perfekt über Hyde und Johnson, zu Watson zum TD. Damit bauen die Pats ihre Führung auf 3:31.
Im dritten Viertel wurde viel Rotiert. Der nächste TD kommt aber von einem Starter! HB Harris bekommt den übergeben und findet über links außen eine Lücke und läuft 13yard zum Patriots TD! TD Patriots! Der Anwärter zum AFC Offense Rookie of the Year macht seinen 10th rushing TD (Platz 2 ist QB Stidham).
Im letzten Quarter macht Hauschka seinen zweiten FG aus 53yards und Gostkowski antwortete mit einem 34yarder. Somit gewinnen die Patriots mit 41:6 gegen die Bills.
MVP des Spiels ist HB Harris mit: 13att, 108yds, 8.3avg, 2TD & 26long
Danke an Uwe für das faire spiel.

daumen1909

Pro Bowler





Anzahl der Beiträge

: 741


Anmeldedatum

: 16.01.17


Alter

: 48


Ort

: Dortmund




reggiebush15

Pro Bowler





Anzahl der Beiträge

: 503


Anmeldedatum

: 13.08.18


Ort

: Frankfurt am Main



---
Befugnisse in diesem Forum
Sie können in diesem Forum
nicht
antworten