Seite 2 von 2 •
1, 2
Cool geschrieben
gefällt mir
Oaktown News #4
Die 2. Woche der Pre Season ist vorrüber und für unsere Jungs ging es zu den Steelers nach Pittsburgh.
Das Spiel war vorallem von wenigen First Downs, einer Starken Raiders D und dem running Game beider Mannschaften geprägt.
Am Ende sprang ein klarer 34:3 Sieg für unser Team heraus!
HC Nesandur nach dem Spiel: "Natürlich ist das nur die Pre Season und die Siege zählen am Ende nichts. Jedoch bin ich mit dem Auftritt unserer Mannschaft sehr zufrieden. Unsere Starter konnten in Week 1 gegen GB nicht ins Spiel finden. Heute sah das schon viel besser aus! Unsere Backups spielten wie schon in Week 1 überragend. Unsere Defense hat nochmal einen Zahn zugelegt und stand heute Bombenfest. Ein besonderes Lob geht an Backup RB Helu der wieder über 100Yd Laufen konnte und das ganze diesesmal mit 2 TD krönte.
Noch stehn uns 2 Pre Season Spiele bevor, doch das Team hat jetzt schon gezeigt wie heiss es auf die kommende Reg Season ist!
GO RAIDERS!"
Hier noch für alle Interessenten:
Spielbericht:
Raiders@Steelers
Die Highlights zum Spiel:
Desweiteren können wir 2 Neuzugänge im Team begrüßen:
und
Beide Spieler wurden in PreSeason Week 1 und 2 aus der FA geholt und sollen unsere Pocket stärken. Beide wurden als Backups verpflichtet. Center Tim Barnes spielte zuletzt für die St.Louis (LA) Rams. LT Nate Garners letzte Spielstätte war bei den Miami Dolphins.
Wie hoffen ihr findet euch in Oakland schnell zurecht und könnt unser Team gut unterstützen!
Das wars auch schon mit der 4. Ausgabe der Oaktown News. Wir melden uns natürlich wieder sobald es etwas neues gibt.
Bis dahin alles gute und Just Win Baby!

Nesandur

Pro Bowler





Anzahl der Beiträge

: 199


Anmeldedatum

: 27.12.15



!Oaktown News!
Reg.Season Abschlussbericht:
Nach einer starken 12-4 Season ziehen unsre Raiders verdient in die Wildcardround ein.
Wir lassen nochmal Revue passieren und schauen zurück auf die Reg.Season. (vorallem für Statistik Fans)
1, Shedule
W1 Raiders 54 - 13 Titans W    
W2 Jets 26 - 18 Raiders  L
W3 Raiders 30 - 49 Redskins L
W4 Raiders 35 - 19 Broncos W
W5 Ravens 26 - 28 Raiders W
W6 Chargers 16 - 20 Raiders W
W7 Chiefs 8 - 30 Raiders W
W8 Raiders 24 - 12 Bills W
W9 Raiders 37 - 20 Dolphins W
W10 Bye Week
W11 Patriots 37 - 13 Raiders L
W12 Broncos 3 - 62 Raiders W
W13 Giants 25 - 51 Raiders W
W14 Raiders 17 - 41 Chiefs L
W15 Cowboys 14 - 17 Raiders W
W16 Raiders 45 - 14 Eagles W
W17 Raiders 30 - 14 Chargers W
2. Standings
AFC WEST:
1. Raiders 12-4
2. Chiefs 5-10-1
3. Broncos 4-11-1
4. Chargers 4-11-1
AFC:
1. Patriots 14-2
2. Jaguars 14-2
3. Raiders 12-4
4. Bengals 10-6
5. Jets 9-6-1
6. Browns 9-7
7. Ravens 9-7
8. Texans 7-9
9. Chiefs 5-10-1
10. Broncos 4-11-1
11. Chargers 4-11-1
12. Steelers 4-12
13. Bills 4-12
14. Colts 4-12
15. Titans 3-13
16. Dolphins 3-13
NFC:
1. Redskins 16-0
2. Falcons 12-3-1
3. Cardinals 12-4
4. Panthers 12-4
5. Giants 11-5
6. Bears 11-5
7. Rams 9-7
8. Vikings 9-7
9. Cowboys 9-7
10. Eagles 8-8
11. Seahawks 7-8-1
12. Saints 7-9
13. 49ers 5-11
14. Buccaneers 4-12
15. Lions 4-12
16. Packers 2-14
3. TeamStats:
Offense:
7117Tot Yds (13.)
5840 TotOffYds (7.)
3368PassYds (17.)
2472 Rush Yds (6.)
39.9 PPG (8.)
25 Pass TD (T-7.)
28 Rush TD (4.)
213 1st Downs (27.)
27 Giveaways (6.)
Defense:
5244 TotYdsAllowed (13.)
3447 PassYdsAllowed (23.)
1797 RushYdsAllowed (8.)
337 Points Allowed (7.)
59 QB Sacks (11.)
11 Fumble Rec. (4.)
36 Ints (12.)
47 Takeaways (11.)
4. Raiders:
Offense:
QB
Unser Field General DC #4 konnte mit 3663Yds 251-368Att (68%) und 25TD überzeugen. Damit kommt Carr auf ein Rating von 99.2 und wurde in den Pro Bowl gewählt.
Wir hoffen jedoch das er seine Ints (21Stück) nächste Season etwas reduzieren kann.
HB:
Das 3er gespann Lynch, Richard und Washington wusste voll zu überzeugen.
Veteran Lynch brachte es mit 237Att auf 1499Yds (6.3Avg) 34Btk und 15TD (3Fumbles) und wurde ebenfalls in den Pro Bowl gewählt.
Durch die verletzung im letzten Reg Season Spiel wird er uns in den PlayOffs leider nicht zur seite stehen.
Jalen Richard (98Att - 456Yds) und DeAndre Washington (30Att-347Yds) konnten jeweils 5TDs verbuchen.
WR/TE;
TE Jared Cook (ProBowl) kommt mit 50rec auf 894Yds und 4TD. Sein Backup Walford holt mit 10Rec - 126YAds und 1TD.
WR Amari Cooper kommt mit 41Rec auf 664Yds und 7TD auserdem holte er mit 10 Rush Att - 81Yds und 2TD
Cordarelle Patterson der für den verletzten Crabtree auf die 2.WR Position vorgerückt ist konnte benfalls 41Catches holen. Er machte daraus 676Yds und 5TD.
Unsre Pocket hat gute arbeit geleistet, vorallem C Hudson und LG Osemele haben kaum etwas zugelassen. LG Osemele wurde ebenfalls in den Pro Bowl gewählt. C Rodney Hudson hat sich im letzten Spiel verletzt und wird leider auch für die Playoffs ausfallen.
Für ihn wird Rookie David Sharpe einspringen, wir hoffen das der Junge seine sache gut macht.
Defense:
Unser Cornerback Duo David Amerson (AFC DB OTY) und Sean Smith haben diese Season voll eingeschlagen und kommen zusammen auf 108Tkl - 7Tfl - 1Sack 14Ints -23 Defl - 3FFumb - 1Fmbrec.
David Amerson konnte 4Pick 6 holen.
Auch die Backup CBs Carrie und Rookie Conley verzeichneten jeweils 2Ints und 1Pick 6. Conley konnte auserdem 2Fumbles erzwingen.
SS Karl Joseph kommt in seiner 2ten Season auf 72tkl - 3Ints.
Auch Veteran Reggie Nelson zeigte wieder das er es noch drauf hat. Mit 74Tkl - 1Sack - 4Int und 1TD.
Die Position des MLB wurde zu Season beginn etwas Kritisch gesehen. Doch Coach Nesandur setzte auf Cory James und der dankte ihm mit 93Tkl - 16Tfl - 1 - 5Ints - 10Defl -  2 FFumble - 1FumbleRec - 1Td
Wie schon Hudson und Lynch verletzte auch Cory James sich im letzten Spiel der Reg Season. Er wäre frühestens zum SB wieder Fitt.
ROLB Aldon Smith kommt auf 70Tkl - 9TFL - 3.5Sacks - 3Ints 3FFumbl und 1Td.
LOLB Bruce Irving steht dem in nichts nach und kommt auf 66Tkl - 11Tfl - 3Sacks -2Int -1FFumble -1Fumblerec und ebenfalls 1TD
Unser Kicker Sebastian Janikowksi staubt den AFC Kicker of the Year award ab.
Zu guter letzt kommen wir zu unserem Raiders Player of the Year.
Unser D Captain:
Khalil Mack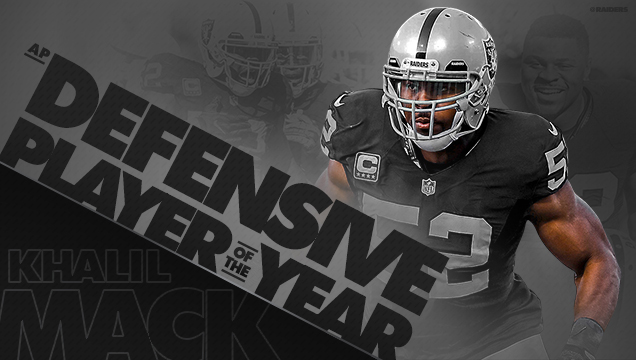 Mack war dieses Jahr einfach unaufhalltsam. Er brachte es auf 81Tkl (58Solo) - 21TFL - 36Sacks - 2Forced Fumles - 1FumbleRec.
Mit seinem 6Sack Game gegen die Dolphins steht er nun zusammen mit F.Dean (49ers), O. Umenyiora (Giants) auf der All Time Defensive Sacks (Game) Liste auf Platz 2 hinter D.Thomas 7Sacks (Chiefs).
Doch mit seinen 36Sacks bricht er  die All Time Sack Leader Liste (Season) und steht nun auf Platz 1. (2. E.Griffin (Vikings) mit 31Sacks)
Mack wurde zum AFC Defensive Player of the Year gewählt.
Auserdem bekommt der die auszeichnung für den AFC DE OTY und wurde in den Pro Bowl gewählt.
Das wars erstmal von uns.....
Just Win Baby!

Nesandur

Pro Bowler





Anzahl der Beiträge

: 199


Anmeldedatum

: 27.12.15



Wieder WildCard................wieder gegen einen Schweizer........... da kommen Erinnerungen auf
cooler Beitrag Nesa und GW zur erfolgreichen Season

MooS

Pro Bowler





Anzahl der Beiträge

: 906


Anmeldedatum

: 28.12.15



egal ob Wildcard oder Playoffs.. .bisher ging's nach der reg season immer in die Hose xD
Danke Moos

Nesandur

Pro Bowler





Anzahl der Beiträge

: 199


Anmeldedatum

: 27.12.15



Ist aboniert

RevTheory93

Rookie





Anzahl der Beiträge

: 64


Anmeldedatum

: 23.02.17


Alter

: 27


Ort

: Singen, BW



Schöner Season-Rückblick
Da bin ich ja jetzt vor unserem Spiel bestens im Bilde! Obs was nützt ist ne ganz andere Sache...
Verletzungssorgen hammer somit beide...

swissballer

Rookie





Anzahl der Beiträge

: 77


Anmeldedatum

: 12.07.17


Alter

: 53


Ort

: Hegau (BW)



Seite 2 von 2 •
1, 2
---
Befugnisse in diesem Forum
Sie können in diesem Forum
nicht
antworten