Chargers gewinnen mit zweiter Mannschaft gegen die Colts mit 28:20!!!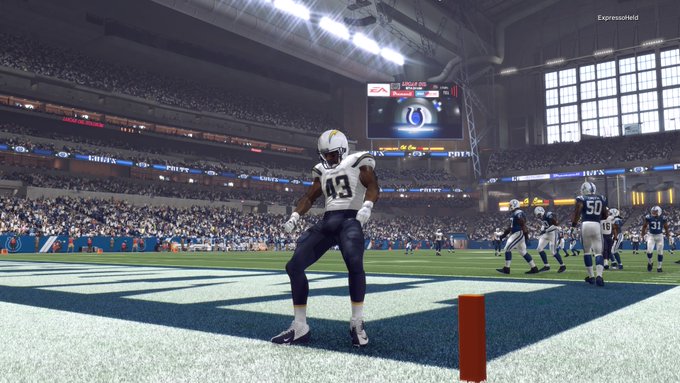 Im ersten quarter kriegen die Chargers den Ball und als man an der 12yard der Colts voran gekommen ist, kann HB Ball einen outside run nach links hinlegen und die Chargers mit 7:0 in führung bringen! TD Chargers! HB Ball mit dem cut nach links, bringt die Chargers somit mit 7:0 in führung.
Im zweiten quarter gab es eine reine defense schlacht. Die Chargers offense mit starting QB Harrington, heute mal, tut sich etwas sehr schwer. Die Colts können aber einmal auch zum angriff kommen und QB Manuel findet tief TE Myes zum 15yard TDpass! TD Colts! Myers kann ihn in der Endzone fangen und da kan kein Weddle oder Robinson den Ball raus tacklen. Ausgleich heißt es nun zur Halbzeit mit 7:7.
Im dritten Quarter kriegen die Colts den Ball und Kicker Carpenter kann die Colts mit einem 29yard FG in führung bringen. Colts führen nun mit 7:10. Aber Harrington kann im drive danach antworten und findet Rookie WR Pugh, zum 7yard TDpass! TD Chargers! Beide Rookies mit ihrem zweiten TD pass/rec in der Saison! Somit gehen die Chargers mit 14:10 in führung.
Im letzten Quarter wurde deutlich mehr gemacht. QB Manuel findet an der goalline TE Myers erneut zum 4yard TD pass! TD Colts! Manuel kann auf der kurzen curl route den Ball schnell genug zu Myers bringen, bevor MLB Teo eine hand dazwischen bringen kann. Somit gehen die Colts wieder in führung mit 14:17. Chargers am Ball und nach einem sack an Harington ist es nun 3rd and long und Harrington spielt ein HB screen auf Oliver der den Ball zum first down und mit einem kleinen stop 'n run, den Safety umgehen kann zum 61yad TDpass! TD Chargers! Die blocks sitzen gut und Oliver kann zwei gegenspieler umgehen zum 61yard TD. Chargers führen wieder mit 21:17. Colts am Ball aber man kann ausdem drive nur den rückstand um ein punkt verkürzen, Carpenter mit dem FG aus 51yards, bringt die Colts auf einen 21:20 rückstand nur noch. Chargers kommen wieder aufs Feld und HB Ball kann mit einem guten run die Chargers auf eine 8pkt führung bringen! TD Chargers! Wieder klappt der outside run von Ball und er kann 29yard zum TD erlaufen und bringt die Chargers zu einer 28:20 führung. Colts versuchen es aber siescheitern an Turnover on downs und somit gewinnen die Chargers mit 28:20!
MVP des spiels ist HB Ball mit: 8att, 63yds, 7.8avg, 2TD & 29longest
danke an criso für das faire spiel und somit bleibe ich nur noch von einem sieg entfernt, eine undefeated season hinzulegen!
Hier nochmal der TD von Oliver, jack du kannst das für das MOL td of the week gerne nehmen!
GW JP,,,,,starke Season von Dir
Ich fände es spannend Dich im MOL-Bowl zu sehen

MooS

Pro Bowler





Anzahl der Beiträge

: 846


Anmeldedatum

: 28.12.15



GW GoF viel glück bei dennPO

Zirkus-Toni

Franchise Player





Anzahl der Beiträge

: 1155


Anmeldedatum

: 24.12.15


Alter

: 57



Gw JP

KingSize97

Franchise Player





Anzahl der Beiträge

: 1670


Anmeldedatum

: 23.12.15


Alter

: 23



---
Befugnisse in diesem Forum
Sie können in diesem Forum
nicht
antworten