Seite 2 von 2 •
1, 2

Manu021192

Pro Bowler





Anzahl der Beiträge

: 147


Anmeldedatum

: 25.12.15


Alter

: 28





Wenigstens ist es Adrew Luck schon gewohnt, bälle von Safety Pryor Intercepted zubekommen. Willkommen bei den San Diego Chargers, Calvin Pryor!
Außerdem claimen sich die Chargers CB Javier Arenas! Er soll im Return mit wirken als auch als auch im DB squad mit mischen.
Es ist nun Offiziell!!!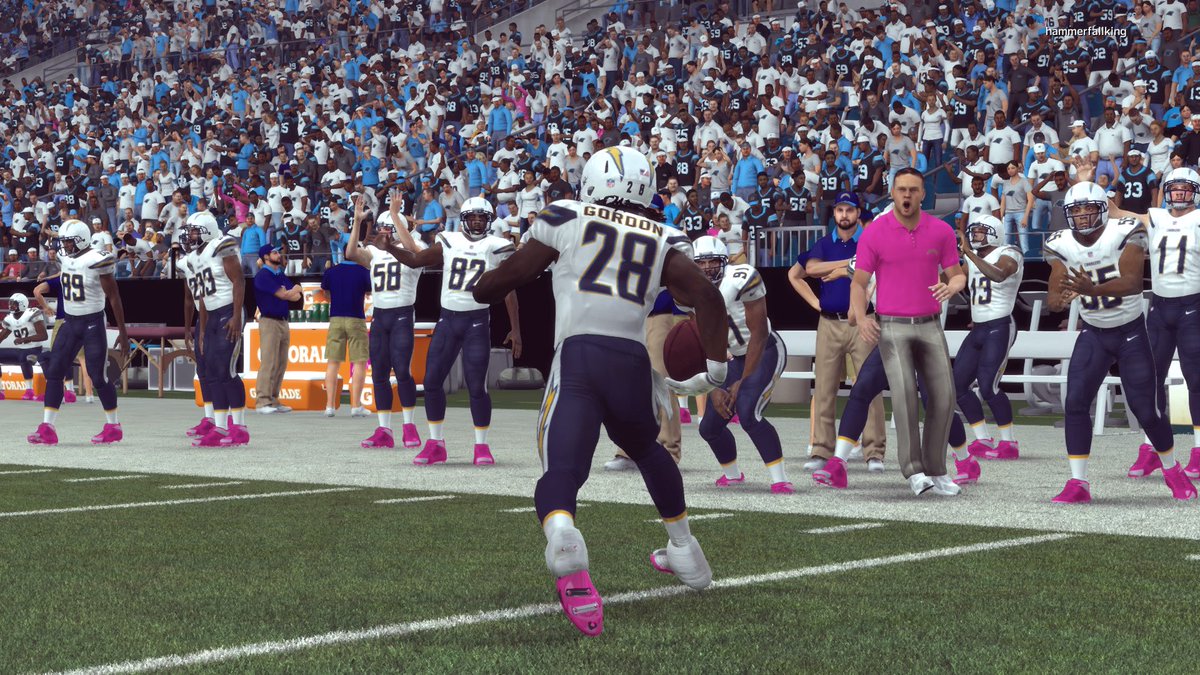 Head Coach JP bleibt auch in Madden 17 bei den Chargers! Dies wurde letzte woche beschlossen, das der zweifache (DML & MOL) Super Bowl sieger, trotz großen Personal verlusten (FS Weddle & TE Gates), den Chargers troy bleiben wird. "Ich konnte in der offseason den vertrag von Weddle verlängern und konnte über die Offseason die wahrscheinlich stärkste Oline der Liga aufbauen. Mit DE Wake in der Defense und mit mehr als 38mio cap space, wird es auch im nächsten Madden große veränderungen geben."
Inoffiziell sieht die AFC West ungefähr so aus:
Broncos: Manu
Chiefs: Zirkus-Toni
Raiders: Nesandur
Chargers: JP
Wir sind gespannt unteranderem gegen die begegnungen aus der AFC und NFC South. Außerdem bedauern wir das die Steelers evtl in den Playoffs als gegner erscheinen werden, falls es zu einem duell kommen wird.
wir sind auf das kommende madden gespannt und freuen uns auf neue gegner und auf ein ganz neues roster
Freut mich das du uns erhalten bleibst...ich bestätige meinen Verbleib in der AFC West;)

Manu021192

Pro Bowler





Anzahl der Beiträge

: 147


Anmeldedatum

: 25.12.15


Alter

: 28



Keine Season ohne ein schlecht-Wetter Game
und muss ja meine Bilanz gegen Dich ein wenig aufbessern ;O)

MooS

Pro Bowler





Anzahl der Beiträge

: 906


Anmeldedatum

: 28.12.15



Traurig aber wahr!
5x reception TDs
10x rushing TDs
8x Pick 6
In San Diego ist es... ...wie soll man es erklären!? Es ist kompleziert ¯\_(ツ)_/¯ ¯\_(ツ)_/¯ #ThugLife
Außerdem mit 6tckls, 2INT und 2TDs schaffte es CB Robinson zum Defensiv Player of the Week 9. Wir Gratulieren
Defense wins Championships

KingSize97

Franchise Player





Anzahl der Beiträge

: 1851


Anmeldedatum

: 23.12.15


Alter

: 23



-CB Robinson einziger spieler der Chargers in den Player of the week's
-JP rank 1# des Coaches of the year award
-FS Weddle 2th in #DPOY & 2nd in best DB
-OLB Fulton 3rd in #DROY
-QB Rivers 5th in best QB
-OL Franklin & Fluker 2nd & 3rd in best OL (trotz Rivers mit den meisten sacks)
-DE Wake 2nd in best DL (in sacks meilen weit hinten)
-K Brindza 3rd in best K
CB Robinson mit den meisten INT yards (229yds), second in IntYdsAvg(45.
, most defense TDs(4TDs)
K Brindza: beste FG percentage (100% von 37of37), teilt sich mit K Gostkowski die meisten FG aus +50 FGs und hat die meisten FG versenkt.
Team stats:
-21st in off points
-3rd in points allowed
-4th in def yards
-10th in points scored
Man kann sagen was man will, die Chargers haben eine unglaubliche saison hinter sich gebracht. Nun geht es auf die drei letzten spiele zu: Raiders(4-9), Colts(8-5) & Falcons(3-11). Die Chargers haben sich den Seed 2 gesichert und wollen ihre Siegesserie ausbauen. Aber man muss sich im klaren sein, das es keine herrausragende spieler im squad gibt. Nach einer ernüchternen Offseason phase, wo man keinen star FA ranholen konnte (zb. CB amukamara zu den Titans), hatte man nachdem Trade mit den Dolphins, DE Wake keinen star ranholen können. mit über 30mio cap space übrig, schlendert Coach JP durch die NFL season und besiegte Teams wie: die Starken Steelers, die Broncos (2x in Overtime), die Titans und als krönung der Titelverteidiger die Patriots! Nachdem spieler wie Rivers mit 17TDs keine große bedrohung in den statistiken ist, ist auch HB Gordon mit 7TDruns und sämtliche andere ausdem Roster statistisch gesehen keine bedrohung.
Natürlich stechen spieler wie CB Robinson oder Kicker Brindza herraus, aber hier kann man sich nicht mit ruhm bekleckern. Im gegenteil!
Natürlich gab es gute Offseason moves bloß, nur die getradeten oder gedrafteten machten hier das spiel. Die Frage ist ob dieses niveua gehalten werden kann in den Playoffs?
Vorrerst wird es am montag um 16uhr das spiel gegen die Raiders stattfinden. Mit einem Sieg können die Chargers seed 1 sichern. #stayangrycleveland
im back
Seite 2 von 2 •
1, 2
---
Befugnisse in diesem Forum
Sie können in diesem Forum
nicht
antworten