Chargers gewinnen nur mit der Defense, gegen die Buccaneers mit 3:27!!!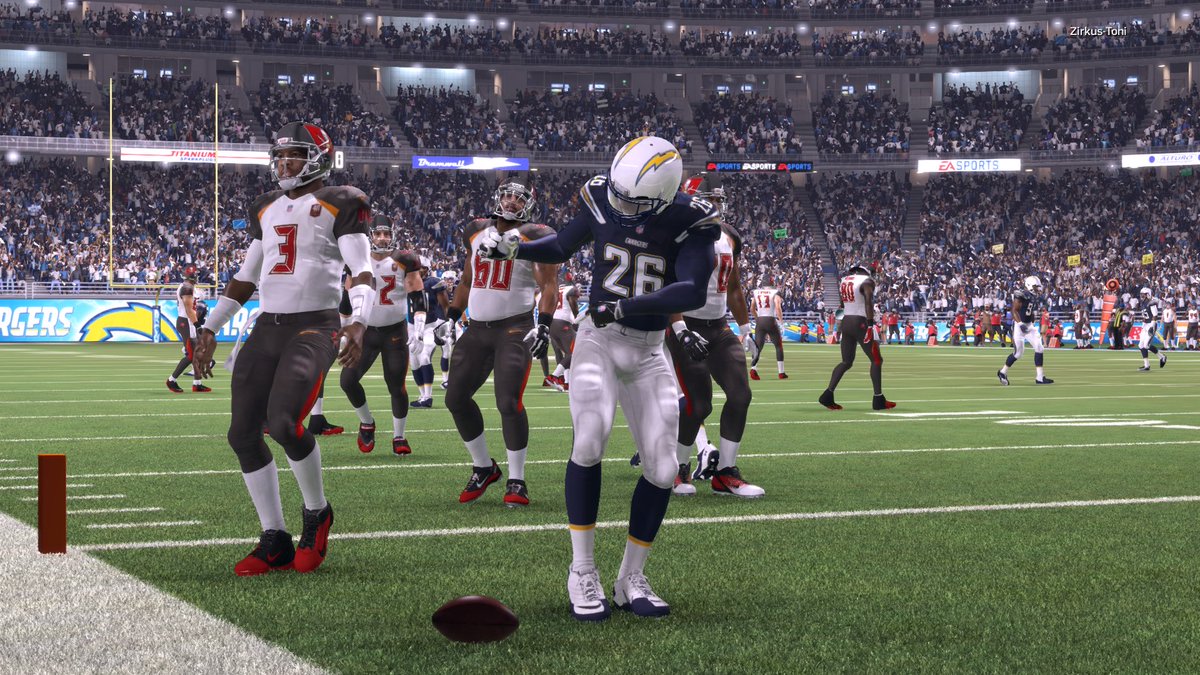 Bis jetzt konnte JP kein sieg gegen den Zirkus toni einfahren, heute sollte sich dies aber ändern.
Chargers fingen als erstes an mussten jedoch schnell punten. Trotz passgenauigkeit problemen von Rivers machte HB Gordon auch das spiel. Trotz vielen defensiv stopps kam im ersten quarter keiner zum punkten.
Im zweiten Quarter kamen die Chargers bis zur Bucs goal line aber CB Verner zum INT an der 1. und rettet die Buccaneers vor einem rückstand. Buccaneers nun besser dran über Bradshaw und Winston. Aber die Bucs werden gestoppt und Scobee mit dem FG aus 50yards & er trifft. Buccaneers gehen mit 3:0 in führung. Chargers lassen die Offense nun mehr über Gordon laufen und man erreicht die Bucs FG range. Brindza kann aus 40yards die Post zum ausgleich treffen. 3:3 der zwischenstand. Buccaneers sind etwas eingschüchtert und Winston macht seinen ersten fehler und wirft auf Bradshaw, aber der rookie SS Brandon fängt den Ball ab und macht seinen zweiten pick 6 in seiner Karriere! Ein 25yard Interception zum TD, die Chargers gehen nun mit 3:10 in führung. Bucs wieder am Ball und man lässt alles etwas ruhiger angehen, aber das hielt bis zur 40yard line. Da ist CB Robinson mit dem nächsten INT, der ihn ganze 60yards to the House läuft! TD Chargers! Robinson muss sich zwar an einem block vorbei schlüpfen, aber Winston konnte ihn nicht mehr einholen und Robinson feiert nun seinen zweiten pick6 in dieser Saison. Chargers mit einem 3:17 airbag. Halbzeit.
Bucs wieder am Ball aber keine chance für die Buccaneers offense. Ebenso ergeht es Rivers der im dritten quarter ausgewechselt wurde, durch Harrington. Nach 2INTs und mehreren incompletions, sollte der rookie aufs Feld. Nach einem INT von Winston auf Chargers LB Butler, der sofort zu boden ging, konnte der rookie sich beweisen. Harrington schlägt sich gut, aber Bindza musste den rest per FG erledigen. Ein einfacher 21yard FG bringt die Chargers zu einer 3:20 führung.
Im vierten Quarter spielten beide mit fast second string, die Buccaneers mehr als die Chargers, aber QB Glennon musste auch einbüßen, mit einem erneuten Pick 6 von Robinson! TD Chargers! Ein 53yard INT for TD von Robinson besiegelt die Serie der Chargers. Somit gewinnen die Chargers gegen die Buccaneers mit 3:27!
MVP des spiels ist CB P. Robinson mit: 6ass, 1defl, 2INT, 113yds und 2TDs
Danke an Uwe für das faire spiel und viel erfolg in der saison
Zuletzt von Zirkus-Toni am Mi Mai 18, 2016 9:10 pm bearbeitet; insgesamt 1-mal bearbeitet

Zirkus-Toni

Franchise Player





Anzahl der Beiträge

: 1155


Anmeldedatum

: 24.12.15


Alter

: 58




KingSize97

Franchise Player





Anzahl der Beiträge

: 1670


Anmeldedatum

: 23.12.15


Alter

: 23




Francis245

Pro Bowler





Anzahl der Beiträge

: 781


Anmeldedatum

: 23.12.15


Alter

: 25



---
Befugnisse in diesem Forum
Sie können in diesem Forum
nicht
antworten